Packing Items:
It is recommended that you take/bring the following items to make your journey more comfortable.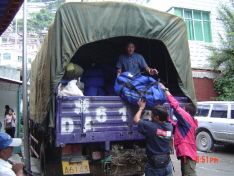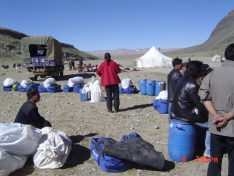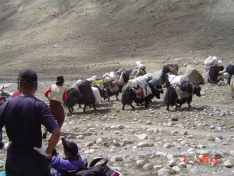 Clothing:
1x wide brimmed hat.
Baseball cap will also do but wide brimmed is preferable
1 x Balaclava/monkey woolen cap covering entire head & face with opening for eyes OR
1 x Fleece cap made with Wind stopper fabric
1 x Woolen scarf, if you generally feel cold
18x Cottonunderwear. (Suggestion: Buy cheap ones, which you can leave behind)
Undergarments (for women)
4 x Lightweight thermal tops (Duofold / CoolMax or similar) as underwear
4 x Light weight thermal long johns (Capilene / Duofold or Similar)
3 x Flannel shirts
Long and short sleeve T-shirts
Shirts when traveling by air, at hotel & sightseeing in Kathmandu
3 pairs Trousers suitable for outdoor / hiking wear
1 x lightweight Jogging suit (top & bottom when traveling in car, hotel)
1 x Long sleeve fleece jacket (North Face or similar)
1 x Ski jacket (North Face or similar) with Gore-Tex (windproof & waterproof) if you generally feel cold
10 x Woolen socks (at least 65% wool)
Socks liners
1 pair Woolen gloves/ski gloves or battery operated heated gloves
1 pair glove liner
1 x Raincoat/waterproof parka
1 x Swimwear (for use when dipping in Lake Manasarovar)
Handkerchiefs
Towels-Qty: 1 bath, 2 hand towels, 4 washcloths
1 pair lightweight waterproof hiking shoes preferable ankle high with in-sole if required OR
1 pair Sneakers that have deep tracks for gripping
1 pair Shoes (for Kathmandu, India)
Spare shoelaces
1 pair slippers
Equipment List:
1 x Sleeping Bag (mummy or square type according to your sleeping habit), goose down, at least minus 10F, preferably minus 20F (about $200-$500). Down sleeping bags are OK if they are stored in water-repellent stuff bags. Down fill is somewhat warmer and more compact than synthetic fill but down is non-insulating when wet.(can be tented in Nepal) .
1 x sleeping bag liner (keeps interior of sleeping bag clean, adds insulation)
1 x Compression stuff sack for keeping sleeping bag compact
1 x Small fleece blanket
1 x Self-inflating Air pillow
1 pair walking sticks (Nomad provides at no cots a regular wooden stick)
2 x Drinking water bottles – Nalgene
2 x Hot water bottles (can be rented in Nepal)
4 x 12 hour chemical heating pads (if required)
1 x Flashlight or headlamp (Hans free preferable) with extra batteries
1 x Swiss Army type pocket knife (not essential). Do not place in cabin bag
A good quality college level backpack (to hold toiletries, clothing, snacks, water bottle and camera etc.
1 x Medium to Large duffel bag 36" (preferably with wheels)
An extra bag/suitcase, which can be left at storage at the hotel in Kathmandu, which will hold clothes/extras, needed prior to start of Yatra and after.
Toiletries:
1 x Quick dry bath or body towel
1 tube Toothpaste
2 x Tooth brushes
Brush or comb
Small mirror
Shaving kit
2 x medium bottles of Antibacterial gel wash
1 x Dry shampoo
2 x packets Wet wipes
2 packets Body wipes
1 roll Toilet paper
Sun protection lotion, SPF 30 and greater
1 x Air freshener
1 x Mosquito Repellent (Deet)
Nail cutter
Some baby pins, plastic cord etc.
Lip Balm (SPF 30+)
Talcum owder (for feet)
Food & Snacks:
Granola bars (2bars/day)
Power bars
Peanut bars
Dried salted ginger (helps alleviate dry throat)
Candy, dried fruits
Gatorade powder
Nasto (Chuda, mamra etc)
Puja Samagri:
5 pictures or statue of god
Holy water (Ganga & Jamuna)if available
Haldi & kumkum, Chandan-etc.
Dry fruits, nuts & brown sugar
Panchamrut-honey, long lasting milk (with a 3month expiry date), cheese, sugar & yogurt
Kalasha-Shankha-Ghante (Bell)
Silver bilvapatra, Tulsi, Agarbatthi & Bhasma
Rudrakamala
Havan Box
6 supari
Aasan, tissues, 2" x 2" cloth-one red and one white piece
Aluminum foil
1lb Rice, wheat, small coconut (available for purchase in kathmandu)
Other Items:
$100 cash payable to your sherpa in Saga
Cash for Airport Taxes, Sightseeing Entrance Fees-etc.
Cash for feeding Brahmins at Pashupatinath Temple
Cash/T.C./Credit Cards for personal expenses
Passport (leave photocopy of passport at home and carry one copy with you)
1 x Security neck pouch (to store passport, money, t/checks and valuables)
4 passport sized photographs (2 required if obtaining visa at airport in Nepal and 2 for Tibet visa)
Diary/note book & pen (to record your travel, feelings, thoughts etc.)
Camera (still or video). If digital (need charger with voltage regulator)
Camera batteries, films, flash/compact/memory sticks (for digital camera)
Portable music players
Binoculars
Small Toys, pens marbles to gift to Tibetans kids
Photographs of family members with whom you wish to share this Yatra.
1 pair Sunglasses (UV protection type) with lanyard (holder)
Extra pair of glasses/contacts if you wear prescription glasses
Watch (leave your expensive watch at home)