Nepal - a land of temples, home of the great Mt. Everest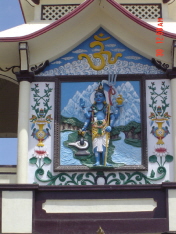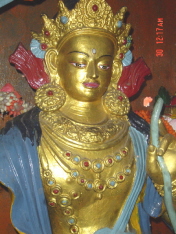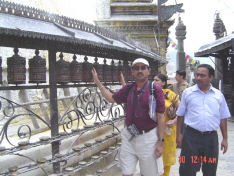 Nepal is a country of great contrasts; Himalayan peaks such as Everest and Annapurna, Kathmandu with its colorful kingdom is situated between India and Tibet and it has 25 million people. Elevations in Nepal vary from about 250 feet in the tropical Terai region to 29,028 feet at the Summit of Mt. Everest. Nepali life is rich in culture and religion which gives it a feel all its own.
Geography
The Himalayan Kingdom of Nepal is a landlocked country lies between 800 4'- 800 12' east longitude and 260 22'- 300 4' north latitude. The total area comprises of 147181 sq. km, its border touches Tibetan Autonomous Region of China in the north and India in the east, south and west. The country is rectangular is shape with almost 885 km east/west length and it is varies from 145 to 241 km north/south.
Religion
Hinduism: Thousands of gods and goddesses make up the Hindu pantheon. Brahma, Vishnu, and Shiva are the three major Hindu gods who have their own characteristics and incarnations. Each god has his own steed which is often seen kneeling faithfully outside that god's temple. Symbolic objects are carries by the multiple hands of each deity which empowers them to perform great feats.
Buddhism: Sakyamuni Buddha is the founder of Buddhism who lived and taught in this part of the world during the sixth century BC. The great stupas of Swayambhunath and Boudhanath are among the oldest and most beautiful worship sites in the Kathmandu Valley.
The spinning of prayer wheels, prostrating pilgrims, collective chants and burning butter lamps are some Buddhist practices often encountered by tourist. A slip of paper bearing a mantra is kept inside the wheels so that prayers are sent to the gods when the wheel is spun. Scenes from the Buddha's life and Buddhist realms are depicted on thangka scroll paintings which are used during meditation and prayer ceremonies. Many Buddhist followers are seen performing these practices in Swayambhunath, Boudhanath, and at other Buddhist sites around the Valley.
Festivals
Nepalis have more festivals than days in a year.
Dasain, celebrated nationwide in October, is the most important of all Nepalese celebrations and features the biggest animal sacrifice of the year. Running a close second is Tihar (November), but unlike Daisan, animals are honoured rather than slaughtered. Other festivals celebrated nationally include the water-tinged Holi (March) and Chaitra Daisan (April), which is yet another bad day for animals. Hindu festivals number the Haribodhini Ekadashi (November) and Maha Shivaratri (March), both celebrated in Pashupatinath, the Gai Jatra (August) in Kathmandu and the Krishna Jayanti (August/September) in Patan. Buddhist celebrations are just as thick on the ground, and include Mani Rimdu (November) in Solu Khumbu, Buddha Jayanti (May) in Kathmandu, and Losar (Tibetan New Year) (February) in Swayambhunath, Jawlakhel and highland communities.
Nepal Map