Acknowledgements: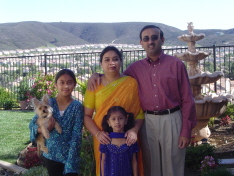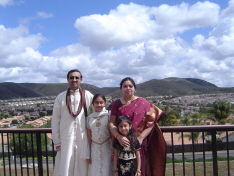 I would like to express my sincere appreciation and thanks to my loving wife Suparna, lovely daughters Spandana and Spatika and our little dog Sammy for their love, patience and encouragement, without their support this yatra and accomplishment would not have been possible.
I greatfully acknowledge the guidance and support of my loving parents and in laws who prayed and blessed all along for the safe yatra.
I am greatful to my brothers, sister, sister-in-laws and brother-in-laws and all the family and friends for their support, blessings and encouragement.
I sincerely appreciate the blessings and support of Dear Lakshmiji and Sukumarji, of Chinmaya Mission, San Diego. Dear Lakshmiji blessed me with the Guru Padukas which I carried with me all along the Kailash - Manasa Sarovar parikrama and performed the Guru Paduka pooja on the Guru Poornima day on the banks of Holy Manasa Sarovar. This was special.
Most importantly, I would like to express the gratitude to our tour organizers, Babu Sherpa, Manila Sherpa, Prem and Dr. Patel of Kailash Tours/Nomad Expedition and their whole team. They were highly enthusiatic, reliable, friendly, experienced and dedicated staff. They made this yatra a very successful and a memorable one.
Last but not least, thanks to all the co-yatris who gave wonderful company, support and encouragement, without which I am sure it would not have been this memorable and wonderful. We will cherish the company and experience.
Special pranams to weather GOD, who blessed us with great weather all along the yatra.
No achievement is impossible for man, if he knows how to act in the discipline of co-operation - Swami Chinmayananda