Mt. Kailash Manasarovar Holy Yatra
Where the Heaven meets the Earth
Dr. Sethumadhava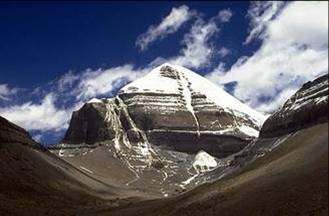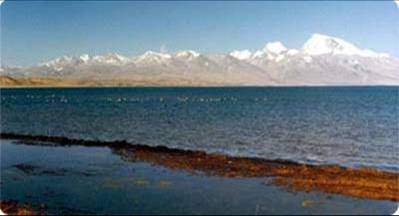 The trip of a lifetime...or many lifetimes - Wow! An Ultimate & A Blissful Yatra
"Conventional wisdom says a single circuit of Mt. Kailash wipes out the sins of a lifetime, 108 parikramas guarantees enlighttenment. A ritual bath in the sacred Manasa Sarovar lake will deliver a pilgrim to Brahma's paradise and a drop drink of its water relinquishes the sins of hundred lifetimes."
"Harih Om - how was your trip to kailash"? This is a question often posed to me these days, after my return from the yatra on July 15, 2006. There is so much to say; but most people are looking for a short answer. So, I feel the right answer is: I am not sure how to verbalize an exalted experience of this nature, at the minimum it was a most memorable experience that simultaneously was very physically challenging, highly spiritual, emotionally elevating, intellectually inspiring and provided ample opportunities for solitude and closeness to GOD. "Om Namah Shivaya" – "mamepemehum" – Tibetan Holy mantra. To undertake a Yatra to Mt. Kailash, is to undertake a Yatra to your own divine self. The happiness and grace that a pilgrim can experience on such a trip are beyond words.
Situated in the south-western part of Tibet bordering the Kumaon hills and Nepal, is Mount Kailash. It is supremely sacred mountain, cosmology connected with Mount Meru, the great mythological mountain that forms the axis of this world system. Being a central watershed of Asia, it has always been the most sacred mountains for Hindus, Buddhists, Jains and Bons.
This region is steeped in religion and mythology and every year hundreds of pilgrims traverse some of the remotest and toughest regions of the Himalayas to pay their obeisance to the Lord. It is a land where Lord Shiva lives with his consort Parvati. According to ancient religious texts, the abode of creator Brahma is called Brahmaloka, the abode of Lord Vishnu is called Vaikunta abd the abode of Lord Shiva is called Kailash. Of the three, one can only go bodily and return in this life from Kailash having experienced divinity.
Hindus believe that Goddess Parvati has taken the form of the Manasa Sarovar lake and that deliverance is assured for people taking a bath in Manasa Sarovar. It is believed that Gods come to bathe every morning in this lake between 3 to 5 am and this time is called 'Brahmamuhurta'. The word Manasa Sarovar is derived from the Sanskrit word 'Manas' which means mind & legend has it that Lord Brahma created this lake from his mind.
Mount Kailash
Mt. Kailash is most bewitching! Its beauty is over powering and from a spiritual point of view, it possesses a subtle magnetic vibration of a supremely high order. Mt. Kailash is considered to be the abode of Shiva and Parvathi, along with Devatas, Ganas, Yakshas, Yogis, Siddha purushas and Gandharvas. Mention of the Mt. Kailash Yatra is made in the Ramayana, Mahabharatha, Skanda Purana etc…. Kalidasa has mentioned about this holy Yatra in his Meghaduta. In the book 'Yoga, Enlightenment and Perfection' describing the thrilling spiritual experiences of Jagadguru Sri Abhinava Vidyatheertha Maha Swami - 35th Shankaracharya of Sri Sringeri Sharada Peetham, the Swamiji himself has stated that the night he took Sanyasam at his thirteenth year, he had a dream. "I found myself on the amazingly scenic summit of a tall, Ice clad Mountain... Though the mountain was icy I felt no cold. In front of me, I saw a huge crystal Shiva linga... suddenly there was a great flash of light and from the linga Lord Shiva manifested. The lord had one face and two arms". The hill referred in this dream is of course Kailash and the crystal Linga refers to the crystal mount which is again Mt. Kailash. He became a Jivanmukta (one liberated while alive). Very few get to even hear of such a state and after hearing about it a much smaller fraction can comprehend it. To understand such a mindset requires a dimentional change in the manner of attitudes. For example, is it not difficult to even conceive of actions that do not stem from selfishness? On the contrary, a delightful description of a Jivanmukta is a follows:
" There dwell calm, great noble ones who move about effecting like the spring season, what is beneficial to people. Having themselves crossed the dreadful ocean of transmigratory existence, they without any motive, cause other persons to do the same"
The scriptures abound in the description of a Jivanmukta's state and it is repeatedly emphasized that the attainment of Jivanmukti is the greatest of all achievements.
Mt. Kailash has other names....Meru, Sumeru, Sushumna, Hemadri, Deva Parvatha, Gana Parvatha, Rajatadri, and Ratnasanu. It is the piller of universe and provides an environment to forget the outer world and experience the full truth - the divine self, a blissful state. Mt. kailash's East face is filled with Crystal, West face is filled with Ruby, South face is Sapphire and North face is Gold. That is the reason it gets the name "Ratnasanu". Nobody has even attempted to climb this holy mountain.
Manasarovar
Holy Manasarovar in the form of dark blue waters is the most beautiful, fresh water wonder lake at around 15,000 ft altitude – at the sight of it the mind dances with wonder and ecstasy said Sri Swami Tapovanam. Manasarovar is to the south of Kailash mountain. A bath in it is stated to take one to Brahma loka and to Shiva loka – as per Ramayana. It's water is very sweet and said to posses medicinal properties. It is about four million years old. In skanda purana, it is stated that the lake was created out of Brahma's mind. Hence it is called Manasa Sarovar. Sanaka, Sanandanna and other maharishis performed tapas here. It appears Buddha's mother dreamt before Buddha's birth, a white elephant from Kailas mountain entering her womb. Daily at Brahma Muhurth time, they say Devatas come down and take bath, especially on the northern side. Some people can even see the Devatas in the shape of the stars descending into the lake and go back. Gandhi's ashes have been mixed in these waters. It is said Arjuna is said to have received his pasupathastra here.
"Feeling that the purpose of my birth had been accomplished, I congratulated myself on my good fortune" – So wrote Swami Tapovan Maharaj in his famous book – Wanderings in the Himalayas.
"I could live and die on this heavenly lake without ever growing weary of the wonderful spectacle always presenting fresh surprises" – So wrote the famous Swedish traveler, Swen Hedin, who traveled over the region in 1907, recording the boundless joy of his wonderful experience.
The yatra was indeed memorable with all of us experiencing an inner satisfaction and joy that comes only from truly blessed events. It is said that each yatri to Mt. Kailash and Manasarovar has unique experiences based on their spiritual inclinations and the grace of the lord at various times during the trips.
Overview
The "Yatra" I am referring to here is one that a group of three members from Chinmaya Mission San Diego including me along with 16 other members from various places of United States had the privilege of making under the leadership of Dr. Patel of New Jersey and expert guidance and arrangement from Mr. Babu Sherpa and Mrs. Manila Sherpa of Nomad Expeditions, Kathmandu . Mr. Raghu Gotur and Dr. Sethumadhava spent many hours for screening and selection of travel agent and yatra organizers researching related information and sharing with the group. Thanks to Mr. Raghu Gotur for sharing his 2004 yatra experiences, videos and pictures with the whole group. This was very helpful to plan the iterinary and the details of our yatra. The core of the yatra was to travel from United States to Kathmandu in Nepal to meet with all yatris on 29th, June 2006. On June 30th, we visited various attractions in Kathmandu including Pashupatinath temple. On July 1st, we set out our journey to visit Manasa Sarovar and then to complete the parikrama of the Holy Mt. Kailash. Our final group consisted of 19 yatris. The main journey to manasarovar- Kailash and back was completed between July 1st and July 15th of 2006.
On arrival in Kathmandu, we were warmly received at the airport by our hosts Mr. & Mrs. Babu Sherpa with fresh flower garlands (Nomad Expedition) and transported to a very comfortable Hyatt Regency hotel. June 30th was dedicated to visiting the temple of Pashupatinath and other local sites. Final briefings/instructions for the trip were given to us on the evening of the 30th.
We left the comforts of the hotel early morning on the 1st and traveled by bus to Zhangmu, the Nepal-Tibet border. We crossed over the friendship bridge in to Tibet (currently under the control of china) by foot, got in to four wheel drive Toyota Land cruiser SUV's each suited for a driver and four passengers, and drove to our first camp site at Zhangmu. After staying for a night to acclimatize to the higher altitude, it took us four days of driving over extremely challenging terrain (through Nyalam, Saga and Paryang) to reach the banks of Manasarovar on July 5th. After spending a magical night at manasa Sarovar, we drove towards Mount. Kailash on July 6th.
During the next four days, we were at various locations around Mount Kailas and got darsan of the Lord in various forms – our eyes were filled with glorious visions, and our hearts filled with a unique sense of joy and peace. We also started our parikrama (circumambulation) around Mount Kailas on July 7th. This took 3 days during which we covered a distance of 52 kms in altitudes ranging between 16,000 ft and 19,500 ft. while couple of us in the group covered this on foot, some of the yatris took the help of a horse during the more difficult parts of the parikrama. It was great to see all the 19 yatris complete the parikrama around Mt. Kailash successfully. This was a great achievement. We looked at LORD Kailash and said - "thank you" and bowed to him. We returned to Manasarovar on July 9th. After a refreshing bath in the lake, we recollected our parikrama experiences and spent that evening collecting Holy manasa Sarovar water and stones. After another night filled with magic, we started Maha Rudrabisheka, Guru Paduka pooja and Homa on the banks of the Holy Manasa Sarovar on the Guru Poornima day on July 10th. We had a very nice pooja and almost at the end of the homa, we were surprised by an older couple who walked into our pooja tent with fresh flower garlands and it started to rain heavily. This I think was the most auspicious moment of all. We completed pooja and offered the silk scarf to LORD Buddha at Dolma-La pass at ~19,000 ft, it started snowing. This was another great moment. We started our return journey on July 11th early morning, and reached Kathmandu on July 12th.
On July 13th, we went on an aerial sightseeing tour of Mount. Everest and other majestic peaks of the Himalayas. We truly enjoyed this tour. It was magnificent. We saw Gauri Shankar, Nuptse, Sagarmatha – Mt. Everest, Lhotse, Makalu, Kanchenjunga and all the other neighbouring Himalayan peaks.
On July 13th evening, we met with the group and all the members of the Yatra including the drivers, cook and sherpas and thanked them for their efforts for this successful Yatra.
On July 14th Morning, We visited Pashupatinath temple and performed Rudrabisheka and Homa and received the blessings from LORD Pashupathinath. We thanked everybody for the successful Yatra, gave hugs and with commitments to keep in touch left Kathmandu for our destinations.
Memorable Events
Even though each of the days during the yatra was unique and filled with amazing sights and experiences, some were clearly very special and left a lasting impression. Every morning Poorba came to our room/tent with coffee, tea and hot chocolate. We looked forward to his voice - Good Morning! Hot tea, hot coffee. Though the priests were getting ready to close the doors at Pashupatinath temple when we visited at 2:00 PM in the afternoon, somehow after seeing us they started Rudrabisheka for Lord Shiva which took about an hour and blessed us with Rudraksha which was on the Lord. This was a very good sign for us before we started the Yatra. I wore that Rudraksha on me from begining to end of the yatra. We were again blessed with Lord Ganesha and various other deities on the snow clad mountains when we got close to Manasa Sarovar. At times when it looked daunting to complete the parikrama, an elderly sherpa who walked with the horse kept saying - "Dhire Dhire Chalo" - keep walking slowly. The feeling we experienced when we took a holy dip in Manasa Sarovar and the chanting of mantras and Holy names facing Mount Kailash at ~19,500 ft altitude are just some moments you can not forget. They were special unique memorable moments which will remain in our hearts for ever.
This sure was once-in-a life time Holiest of the Holy pilgrimage and will profoundly influence the yatris for the rest of the life and beyond.
Map of the area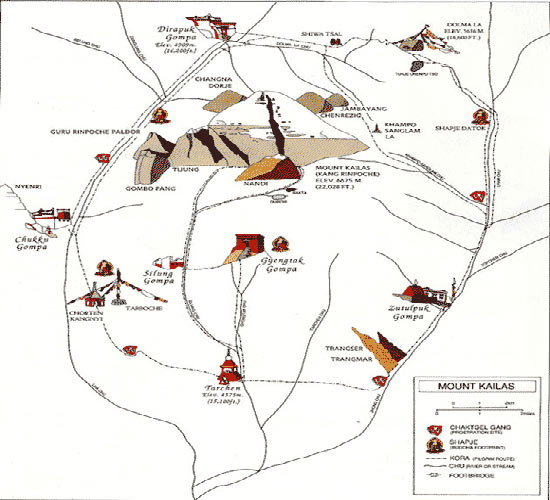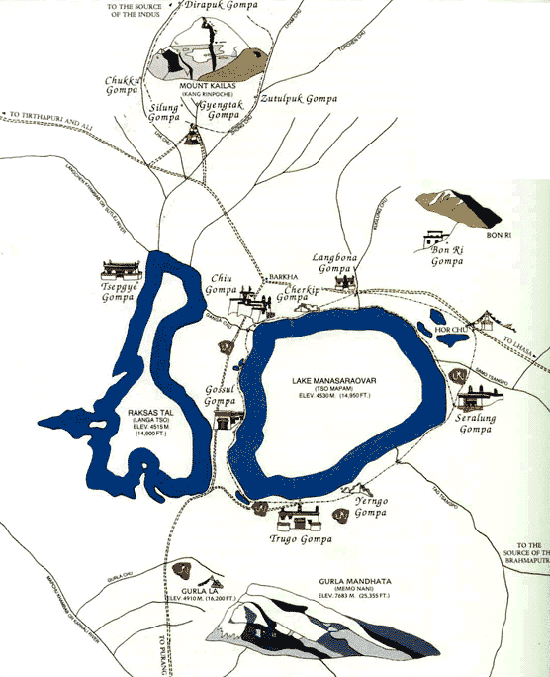 Mt. Kailash Parikrama Route Map Manasarovar - Rakshas Tal Aeriel View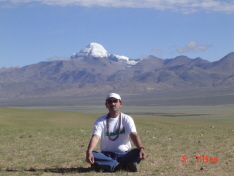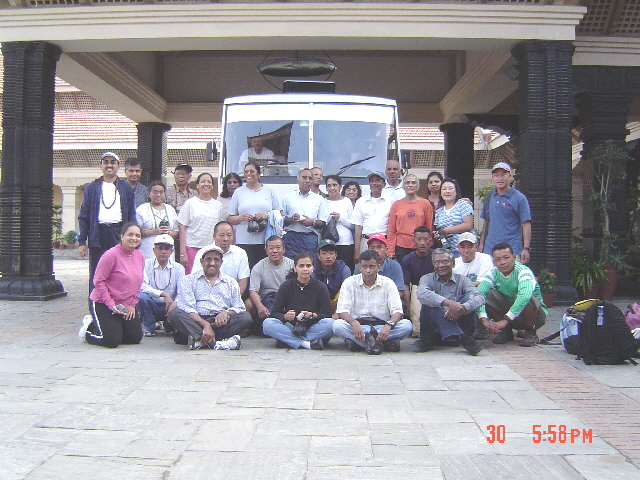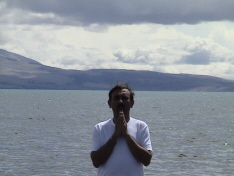 Om Namah Shivaya! Om Namah Shivaya! Om Namah Shivaya!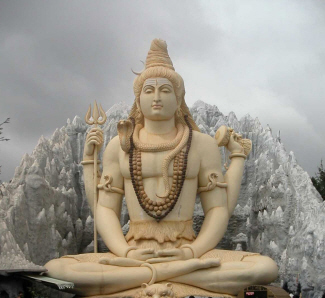 "mamepemehum" - "Om Mani Padme Hum"
(Tibetan Holy Mantra)
"It is faith in the name of the Lord that works wonders, for faith is life and doubt is death" - Sri Ramakrishna
©Copyright Dr. Sethumadhava. Images are resized for web publication.